Interview: "I would like more people to put more emphasis on a good website."
"

I would like more people to put more emphasis on a good website.

"
Lisa-Marie

Sonnenberger

on her first year with TYPO3 and toujou
Lisa-Marie Sonnenberger has been working for DFAU GmbH as a website project manager since December 2019, supporting toujou customers in building websites. During this time she got to know TYPO3 from scratch and therefore has several pieces of advice for editorial beginner. In the interview she also talks about her first year with TYPO3.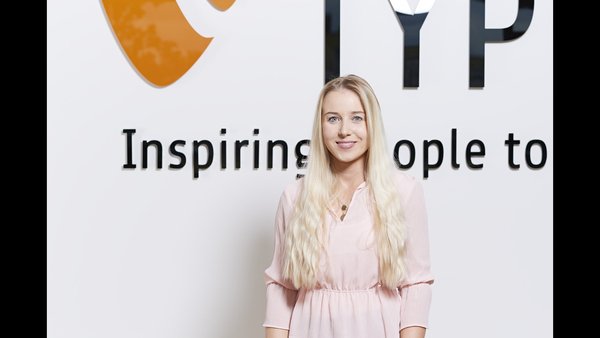 Lisa-Marie Mayr steht Kunden, die eine professionelle Website möchten, seit 2019 mit Rat und Tat zur Seite.
Hi Lisa, on the occasion of your first anniversary at DFAU GmbH, let's have a look at the past year. How were things going for you?
Lisa: The first few months went by very fast. I started at DFAU in Fürth at the end of 2019 and just got to know the colleagues before we had to work from home office due to corona reasons. Without personal contacts and with lots of video conferences it was a little different than expected. Regardless of that, I learned a lot during this time.
For example?
Lisa: All the technology needed for a launch of a website. There are a lot of points to think about, for example the ssl certificate, the domain registration... On the editorial side you have to keep in mind the mobile configuration of content. CSS is helpful too, for designing custom things like the font size. But some people would say that I only scratched the surface of CSS (laughs). And finally, I learned a lot about TYPO3, which I didn't even know at first.
You had no experience with TYPO3 and yet you started directly in a TYPO3 agency. What attracted you to this position?
Lisa: Project management for websites in general is something I enjoy very much working in. I also liked the way DFAU's website is structured and written. That made me curious.
What is your daily work routine like?
Lisa: When we get in touch with a customer, there are two possibilities. Either he creates and maintains the website all by himself. In this case we "only" deliver the tool to build the website, namely TYPO3. Or, if he doesn't have the time, we take over the publishing. That means: creating individual pages and filling them with content. That's what my role is. I take care of everything from the first contact to the launch of the website.
Your work isn't done with the launch, is it?
Lisa: No (laughs). Of course, I also support our customers afterwards. For example, for the last few months I've been giving free courses, in which we teach how to easily create pages in the TYPO3 backend. My aim is to help people to build and maintain professional websites. I really enjoy providing the necessary knowledge.
"In TYPO3 there are many short cuts that save time when creating pages."
If you taught yourself TYPO3, you can certainly give other editors lots of advices. How was it to get used to TYPO3 for editors?
Lisa: It wasn't difficult at all. I think TYPO3 is intuitive to use. That may be partly because I'm not very familiar with other content management systems. But let me emphasize this: If you know your way in TYPO3, there are many short cuts that save time when creating pages. That makes work easier.
Could you name some examples?
Lisa: In my opinion the list view is worth a look. In the beginning I copied each element individually, before I got to know the multi selection. With all the content I transfer from one page to another every day for customers, this is a great advantage. Or the fileadmin - a great invention. You can add the appropriate data to an image, which is automatically reflected to each reference.
That sounds as if you are navigating quickly through TYPO3.
Lisa: From the very beginning I have tried a lot by myself in toujou - and thus inevitably got to know TYPO3. Learning by doing was the slogan. This led to a feeling for the individual elements in toujou.
But not everyone has the time to get used to TYPO3. What would you recommend someone, who doesn't want to keep trying after a long day of work?
Lisa: He or she should contact us. I will take care of it (laughs). To be serious: I do understand, if somebody doesn't have time left to design his website besides his daily business. That is what I am here for. I take over the entire publishing for customers or build individual sample pages that the customer can use as a guide for the rest of his website.
And if you'd like to fill your website with content in TYPO3 yourself...
Lisa:... you can do that of course as well. If you follow the individual steps that we have listed in our set-up on toujou.de and if you take part in our free training, you should quickly overcome the first hurdles. At least that's how it worked for me and now I know how to use the system best.
That sounds like you're looking for new TYPO3 challenges?
Lisa: Definitely. I would like to pass the exam as a TYPO3 Certified Editor. That would be a nice confirmation for me that I really know my way around, and on the other hand the opportunity to learn even more about the application possibilities in TYPO3.
Besides the goals, do you also have wishes for the future?
Lisa: I would like more people to put more emphasis on a good website. And toujou as a tool can be helpful in this respect. It is easy to use because it does not have an infinite number of building blocks. But at the same time it leaves enough opportunities for an individual website through the various elements. And if necessary, you can make your own adjustments with CSS. On a personal level, I hope that I will soon be able to see all my colleagues regularly in the office and that we will be able to welcome customers for training sessions again