Page properties
toujou tutorials
Page properties
With toujou, you control the properties ​​of your content pages according to TYPO3 principles. In this tutorial, you'll learn how to edit default properties and how your toujou back end menu is different from other TYPO3 installations.
The instructions explained on this page are also closely linked to the toujou element library tutorials as well as create and edit pages/navigation.

Your content
On the left side of the back end menu you will find the orange icon page. Click on it to see your page tree to insert content into your pages.
---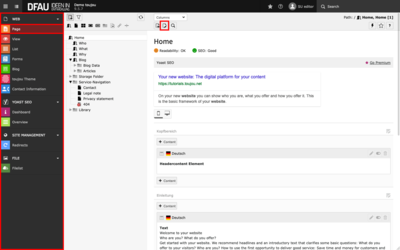 Overview of entries
By clicking on the page icon on the left side of your back end, your page tree always appears.
By clicking on the page header of a content page, three icons appear above your table of contents: View web page, Edit page properties, Toggle search toolbar. In this section, we explain the menu that appears after clicking on the middle icon Edit page properties.
In this tutorial, the menu that appears after clicking on the middle icon Edit page properties is explained.
In toujou (TYPO3 9 LTS) there are eleven tabs within the page properties. These are presented in the explanations below and in the accompanying tutorial videos.
---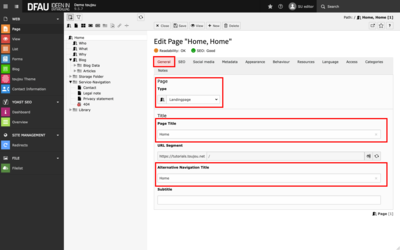 »General«
Page: In the rare case that you want to change the page type of an existing page, click on the Type drop-down menu, where you will see all the page types available to you.
Title: Here you edit the page title, the URL segment and, if necessary, the navigation title.

The Page Title is visible in the frontend navigation as well as in browser tabs. You can edit this area if you want to change the page title.
URL Segment: explained below.
Alternative Navigation Title: This edit is useful if the page title is too long for the navigation.
Specifying a Subtitle is generally not necessary and has a purely organizational function for professionals.
---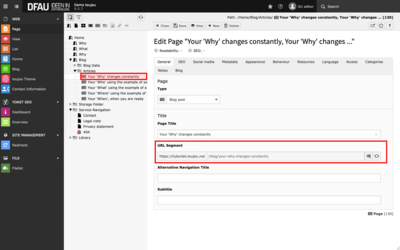 URL segment
(In TYPO3 8 LTS, this section used to be edited within the Yoast SEO tab. See the tutorial for the older version.)
At this point, the URL of each subpage is represented by the system and can also be actively controlled by you as an editor.
This is useful, for example, if you want to replace the long strings after a domain name and make your links more readable (also relevant for the result list of a search engine).
IMPORTANT: Every subpage of your website needs a path segment! It is therefore crucial that you do not create identical URLs or shorten URLs to your domain path! We also recommend you watch the introductory video of TYPO3 GmbH for more information.
---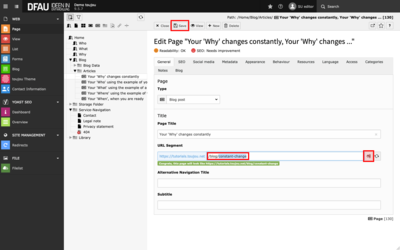 Create an URL segment
In our screenshot, the segment of a blog post with the page title »Your 'Why' changes constantly« is being revised. TYPO3 has automatically generated a URL corresponding to the page title, which is displayed in the URL path /blog/ with your-why-changes-constantly.
First, click on the right-hand icon Eye + Link (Toggle manual URL Segment) to activate the input mask.
Enter your desired URL. In our example, the URL is now renamed to the shorter, more handy /blog/constant-change.
Save your changes.
---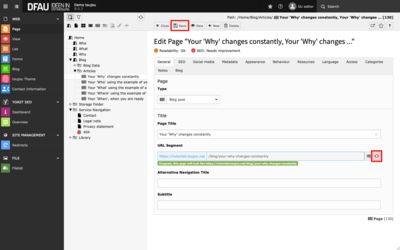 Update an URL segment
If you have renamed a page title, copied a page together with a page title or if you want to undo the override described above, the TYPO3 system can actively generate a URL.
To do this, click on the refresh button (Recalculate URL segment from page title) at the far right of the input mask.
For this purpose, as described above, the (new) page title is accessed and a clean URL is generated – possibly also with higher-level pages (in our example »/blog/«).
CAUTION! With TYPO3 Version 10, all sub-pages of a corresponding page are automatically updated with the new URL. In addition, a temporary redirect (status: 307) is set. If you want to edit this into a permanent redirect (status: 301), click here.
Save your changes.
---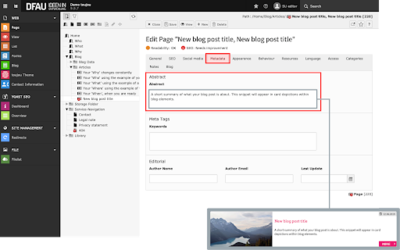 Further tabs
In the Metadata tab you will find a field for an abstract. But you only need to edit it in toujou when you create a blog article. For further information, click here. The areas Meta Tags (for the keywords) and Editorial can be neglected, as they are not relevant for the front end.
Metadata, Behaviour, Resources, Language, Access, and Categories are explained in the video tutorials below.
The tabs SEO and Social Media are explained in a separate tutorial for the Yoast SEO module.
The Appearance tab does not matter in toujou due to preconfigured content elements.
---
---
Video tutorial via TYPO3 GmbH
Feature demo – Speaking URLs
Find out how URL handling has changed since the introduction of TYPO3 Version 9 LTS. Mathias Schreiber shows the possibilities in this video.
Duration: 7'01"
Watch on YouTube↗
---
Video tutorials via jweiland.net (German!)
All the video tutorials from jweiland.net are available only in German. Please don't hesitate to contact the toujou support team if you need us to translate any of the information from the video tutorials or if you need us to further explain any of the topics discussed.
We are constantly looking for detailed tutorial videos in English for our international clients and hope to find video tutorials as detailed as the videos from jweiland.net. Please let us know if you find any so we can add them to our resources.
---
The editing mask of the page properties in TYPO3 can always be accessed via the context menu of each content page with left or right click. The possibilities that result from the set-ups available, depend primarily on your content and your website's requirements.
It is always advisable to consult your webmaster or the toujou support team to determine which page properties make sense for your requirements and should be edited at all.