Font settings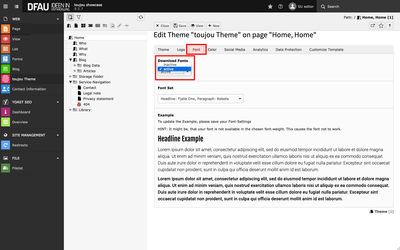 Update fonts
Click on the tab Fonts.
At Download fonts use the drop-down bar to set whether the Google fonts in toujou should be updated for your website (active) or not (inactive).
Click on the Save button above the workspace.
Note: Besides Google Fonts, you can also embed other custom fonts in toujou.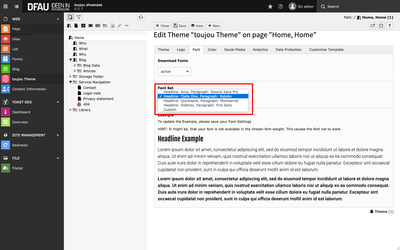 Select font sets for headline and paragraph
Use the Font Sets drop-down bar to see which font combinations are available for headings and paragraphs, for example headlines: Arvo, Paragraph: Source sans pro and others. Review the sets using the examples below and select one.
Click on the Save button above the workspace.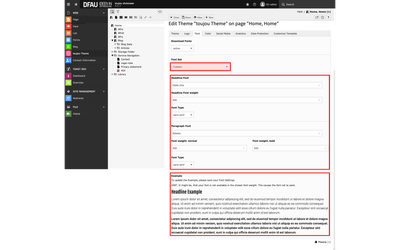 Custom font:
At Font Sets in the drop-down bar you have the option to use an alternative font set by choosing Custom.
In toujou, »Custom Fonts« are licence free Google fonts (available here: Google Fonts ↗). Make sure that the font is compatible with UTF8.
Determine the Font weight for headlines as well as the Font Type.
Determine a Paragraph Font, its sizes (Font weight: normal & Font weight: bold) as well as a Font Type.
Click on the Save button above the workspace.
---
In toujou, you have four font combinations for headlines/text available by default. By using the custom settings, the variety can also be changed/adjusted.
The preconfigured font sizes are based on pre-existing font combinations of the Google font families which have been tested extensively along the design process for toujou. The font weight settings of 300, 400 or 500 vary depending on the font type and the difference you wish to set for normal and bold settings.
In addition to Google Fonts, it is also possible to integrate other individual fonts in toujou with a purchased license. If you would like to do so, please contact our service team.