hissu
Features of the hissu theme
Seting up a state-of-the-art website quickly and easily without getting lost in web design issues: That's what hissu stands for. The theme is based on TYPO3, garnished with our experience as web designers and web developers. As a result the theme offers the following advantages besides the common web design rules: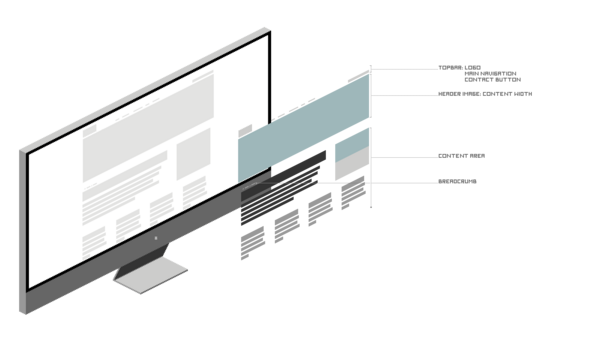 Logo and navigation bar: The exposed position above the header gives both elements more presence on your website and helps users to navigate.
Tabs: The tabs are centered at the top of the screen. To give the header element more capacity to unfold, the second navigation level is only displayed by hovering over the tab
Topbar: As the page scrolls, the logo and navigation bar will move with it, allowing users to access the individual menu items at any time.
Fixed, narrow body mask for media and text elements: The predefined space to the left and right of content elements creates an modern look and feel for your website in both desktop and mobile views.
Mobile first: Of course, all our themes comply with common usability rules, especially when it comes to responsive behaviour.
Templates with hissu
Who will hissu work best for?
The focus of hissu is on the predefined frame of the body mask, which is the same for all end devices. Media and text elements always are always displayed in with the same spacing in this. So if you choose this theme, you don't have to think about the alignment in desktop and mobile view.
hissu is not limited to any particular industry. Rather, the key question is whether you wish to integrate the navigation bar in the header as in the toujou theme – or exposed as in the tabi theme.
Worth noting: The hissu websites listed here are only sample views, which can be individually adapted to your design ideas at any time. We will be delighted to help you with this.
You will find a wide selection of further display options in the industry templates ­– as well as templates for other themes. Or you can also have a look at hissu with the free and non-binding demo.
Websites built with hissu
Theme switch? This feature is only available in toujou!
By choosing hissu as your new theme you have decided to transform the look and feel of your website. But this doesn't mean that you can't change this design later. In toujou you can try out our other themes with just one click in the theme module of your backend. Before activating your website* you have the option to be flexible in the design and can test your content in many different display formats.
*Of course, we do not recommend this while your website is already online. When changing themes or when relaunching an existing toujou website, please contact us to ensure a smooth transition.
---
---