SEO with yoast
Yoast SEO in toujou
Search Engine Optimization for increased visibility and higher rankings
Websites exist in the online world where marketing, advertising and SEO dominate. Search Engine Optimization (SEO) makes the greatest impact on your website's visibility to potential customers. With the Yoast SEO extension for TYPO3 the first steps for Google & Co have already been taken.
---
Google & Co – No longer a closed book
No SEO gurus tutorials required! You no longer have to worry about SEO. We've created a kind of 'built-in SEO' for the on-page optimization. With every page structured to be optimally indexed, your company will most likely have higher visibility in Google searches.
---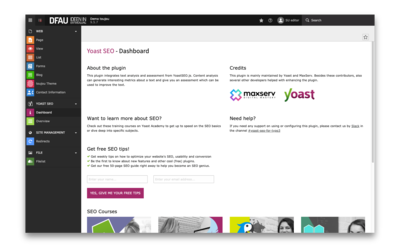 Jump-start for an increase in clicks
toujou provides HTML code according to the latest standards, simple instructions for 'speaking URLs' and proper redirects and links. Yoast SEO, one of the most widely known SEO tools is also included.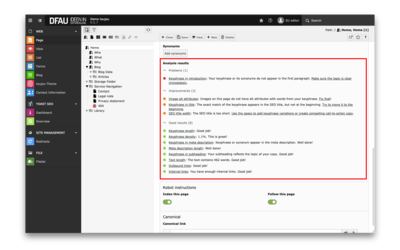 Yoast gives you the green light
The 'granddaddy' of all SEO plugins might be one of the most commonly used SEO tools along with Google's Search Console. It's easy to use with its traffic light system and is an essential instrument for SEO professionals. Yoast helps create keywords, snippets and meta descriptions and checks the SEO suitability of every page immediately. Its analysis helps you optimize the readability and the quality of text.
Beware: SEO tools do have their limits
SEO is an ongoing process that never ends. To increase traffic to your website, placing high ranking keywords simply isn't enough. For optimal SEO results, you and your editors need to ensure that you are constantly creating and publishing relevant content throughout your site. To further optimize SEO results subpages need to be reviewed to ensure that continuity exists on all levels of your site. But remember SEO is only a tool to attract potential customers! Your content needs to be informative, accurate and entertaining for them.
---