Social media settings
Social media settings
In this section, you control the site's behavior on your social media channels.
Tab: »Social Media«
Step by step guide Pieces of advice
---
Step by step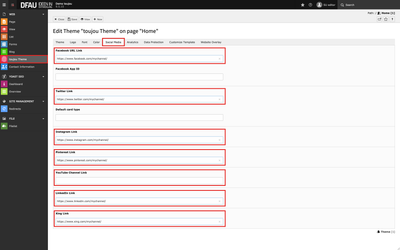 Create social media links:
Click on the tab Social Media.
To display social media icons (e.g. in the footer), the URLs for the channels you offer must be created in one place.
You can link the profiles of the following platforms: Facebook, Twitter, Instagram, Pinterest, YouTube, LinkedIn and Xing. To do this, insert the complete URL of your profile in the corresponding field.
Click on the Save button above the workspace.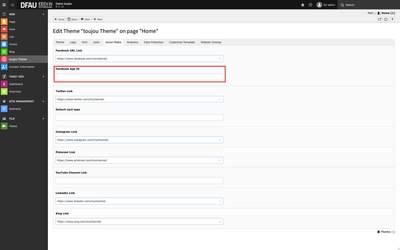 ---
In toujou, you have the opportunity to create links for the social media platforms Facebook, Twitter, Instagram, Pinterest, LinkedIn and Xing.
The frontend displays up to seven logos of available social media channels (see »linked elements«). If there are fewer entries, only the icons for which you have specified links are displayed. Before you fill in the fields please consider which of your social media links are available – and useful respectively.
---
Linked elements
Elements from the toujou element library that are connected to this tutorial.