Inpage Navigation
Inpage Navigation
The inpage navigation element allows you to display a table of contents anywhere on any page of your website. It also allows you to set-up multiple links to the page and is a good alternative to anchor links. In this tutorial we will explain how to create the inpage navigation and what design options are available to you.
Sample views Step by step guide Screen adaption
---
Sample view
---
---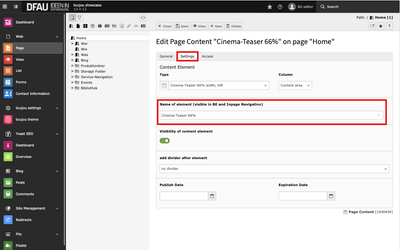 Enter the names of the elements
In order for the Inpage Navigation to display the appropriate terms, it is important that you have named the respective elements accordingly.
To give an element a name, click first the Settings tab in the respective element and then enter the desired name in the field called Name of the element, for example Cinema Teaser 66%.
Save the changes.
---
Screen adaption
If no element name is created in the field Name of the element in the settings, a standard text with 'no title' is automatically displayed in the inpage navigation instead. Also, please be aware that the sequence of the links displayed is automatically determined by the order in which you have created the elements in the Backend.
Worth noting: Content hidden in the Backend ('deactivated') will be displayed in the Anchor Elements among the available objects and can still be selected. As soon as the respective element is enabled, it will appear in the inpage navigation in the Frontend.
Responsive: Please note that in the mobile view to fit the size of the screen better, the inpage navigation is displayed as a dropdown menu. This does mean that all the links of the table of contents are not displayed at the same time. Click on the arrow to open the dropdown menu.
---