Chapter
Chapter
With the chapter element you can define individual areas on a page of your website, where individual designs can be deposited and individual chapters can be created.
Step by step guide Screen adaption
---
Step by step guide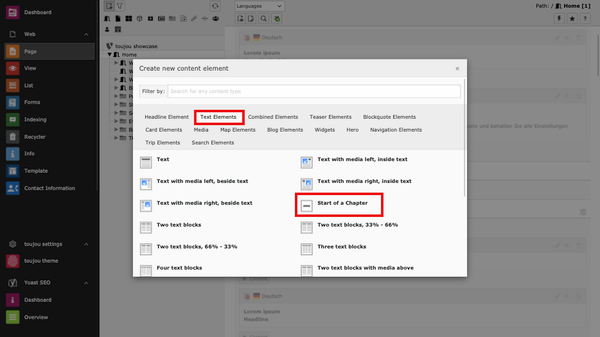 Choose the element
To select a new element, first click +Content and select the text elements tab.
Click on the Start of a Chapter icon.
Please note: Before using the Chapter element, the CSS classes selection must be defined and enabled. To get the CSS classes, please don't hesitate to contact our support team.
---
Screen adaption and pieces of advice
The chapter element can be described as a chapter of a book, where CSS classes can be stored. These customizations are then only valid for the corresponding area and allow for detailed individualization on a page. A chapter ends automatically with the start of a new chapter.
Worth noting: Each chapter needs its own name on each page so make sure you're providing each chapter with its own name.
Chapters are essential for the use of the automatic inpage navigation because they provide reference points. For this reason, give the chapters the name that will correspond with what appears in the front end.
---