Forms
Create forms
In this tutorial, you'll learn how to create forms and how your toujou back end menu differs from other TYPO3 installations. For functionality, the TYPO3 forms module is entirely at your disposal.
Manual Video tutorials Pieces of advice
---
Step by step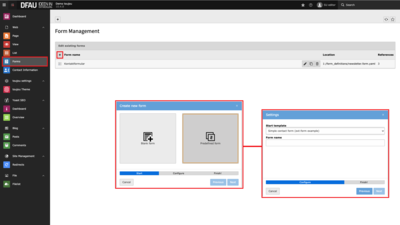 Overview of entries
When you click on the forms icon in the back end of your website, you will see an overview of all your forms. With toujou, a simple contact form (Kontaktformular) is created by default.
You can edit any form by clicking on its title.
Click on + Form name to create a new form. A new pop-up window will appear. With TYPO3 Version 10 you have the choice between a blank form and a predefined form. The predefined one uses an existing arrangement of elements from another form. If you choose this one, you have to select the appropriate form in the next step (see screenshot).
Further explanation can be found in detail in the video tutorial below.
---
Video tutorial via typo3-websites.eu/en
General notes
If you want to request a date of birth in the form, we advise using a text field with a placeholder.
Make sure that the field e-mail address of the sender always contains the address of the domain (e.g. noreply@domain.de). The »text-2« application described from minute 3'05'' is no longer common.
---
Unlike as seen in the video tutorial, with toujou you insert a form once it's completed through the element library. For that, you can choose the Mailform element in the Widgets tab. A preview of the default contact form can be found here.
Please note that when adding a redirect to a page finisher (as demonstrated in the video) you can either redirect visitors to an existing page of your page tree (such as the home page) or to a custom form confirmation page. How to insert new pages into your page tree is explained in the tutorial Create pages/navigation.
---