toujou goes t3imd
toujou goes T3IMD
DFAU becomes gold sponsor of the TYPO3 International Meetup Days 2020
The camp tour continues - although differently than before. After the 2019 kick-off in Venlo, the TYPO3 Camp route took the DFAU crew via Hamburg, Essen and Dresden to Vienna in September 2020. The virtual meeting of the worldwide TYPO3 community at the International Meetup Days on December 16th ends this year's tour.
The numerous participants around the globe can look forward to toujou. DFAU GmbH supports the TYPO3 online event as gold sponsor with its website builder toujou.
»toujou should be of interest to every TYPO3 developer and visitor for many reasons. It provides the combined concept of templates, individual webdesign and low budget. I am glad to name such an innovative service provider our sponsor. And of course I am also delighted about the volunteer work of the toujou team, which helps us to organize such an event«, the TYPO3 Community Expansion Committee Leader Daniel Homorodean sums up.
Daniel Fau, CEO of DFAU GmbH, is, with pleasure, on disposition for the event. His goal: to get connected with the TYPO3 community not only in the German-speaking area, but to expand TYPO3 globally by telling why it is the best CMS. Therefore he and his team were almost on their way to Africa earlier this year. More precisely, to Accra in Ghana for the CMS Africa Summit. But things turned out differently, as we all know. The corona pandemic affected the entire world during springtime and made on site events impossible at that time.
Making TYPO3 more competitive
»We weren't able to participate in all events in the way we had planned for 2020. That's why I am glad that after the barcamp in Vienna we can attend an international event at the end of that year. Even though I prefer personal conversations with like-minded people, the digital International Meetup Days are a good occasion to jointly define opportunities and ways of achieving more TYPO3 in the world«, says Fau.
Daniel Fau's clear message, that he already proclaimed at previous camps before: TYPO3 must be competitive with other website builders and therefore cost-effective for enterprise dimensions. That's what the toujou is like. Additionally, with the website builder the project is ready to start instantly. And due to the open source structure of TYPO3, all innovations, further individual developments and adaptations are available to everyone, which guarantees ongoing improvement – for TYPO3 and for toujou, too.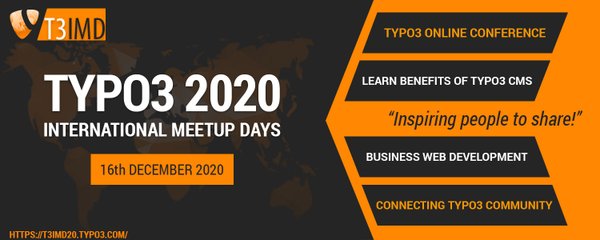 toujou offers quick start solutions - meet us at the T3IMD
»We greatly appreciated the 2019 events we attended. Not only because we like to share our knowledge, but also because we gained a lot of insights and learned new perspectives. With the International Meetup Days, we can at least partially contribute to our ideas from last spring.«
Appropriately, Daniel Fau will moderate a panel on »TYPO3 in Europe and Africa – current status and perspectives« on 16th December 2020. We look forward to getting in touch with the TYPO3 community in general and you personally at the International Meetup Days, and to point out toujou's potential. For more information and the schedule of the TYPO3 International Meetup Days click on their website.
---
More on this at