Location Finder
Location finder
The location finder allows you to display various predefined markers on a map on the website. The toujou element can be integrated on any TYPO3 page and is based on data from Mapbox which helps you to avoid data protection issues with Google.
Sample view Manual Pieces of advice
---
Sample view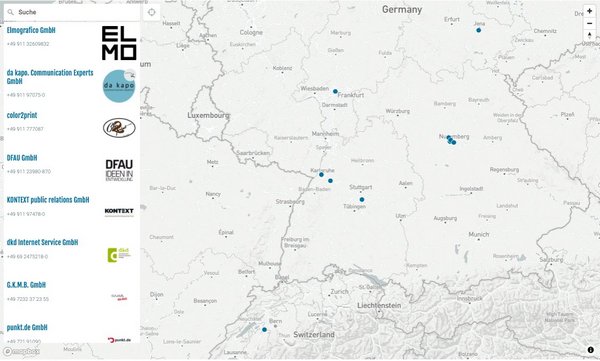 Sample view of the element location finder (Screenshot: toujou.com/partner)
---
Manual
The location finder uses information from the local business page for the information of the locations. Therefore, you have to first create a local business page for all desired locations.
---
Pieces of advice
toujou is based on TYPO3 and anyone familiar with TYPO3 knows that there are many different options to use to reach your desired results. We would like to point out important information and little tricks that can assist you when you're creating and editing your website.
Worth noting: The location finder can be integrated on every page of your website. The information of the respective locations are displayed depending on the map section, which can be zoomed with + and -.
The location finder is based on the data and the visual appearance of Mapbox. If you would like to change the design of the standard settings, please contact us by email or phone for any customization. Please note also that the first 25,000 monthly views are free of charge – a limit that most website operators usually do not exceed.
In order for the locations to be displayed in the location finder, please make sure that the controller for »Page visible« and »Page enabled in menu« are switched to green in the respective page properties of the local business page in the Access tab.
Responsive Design: For mobile devices (width > 640px) the details of the business pages will be displayed below the map.
---
Linked tutorials
Tutorials related to this element.
---